Cabin rental in Illinois on the Fox River.
1200 square foot cabin.. Sleeps 2-4 adults or two adults and three children... Family Fun!
A Ready-to-Use Kitchen.
Fully Stocked with pots, pans, dishes, and silverware. You will not have to bring a single utensil to start enjoying your relaxing getaway. Refrigerator and stove. Can opener and toaster. Our kitchen is tastefully decorated with several antiques and rustic-style hand-me-downs to make you feel like you stepped back in time to a time when there was love in the kitchen.
Large, open living Room.
This is the gathering place in our cabin. A place where you can warm yourself in the morning sunshine and drink coffee and hot chocolate as you watch the sunrise! Watch through our two big panoramic view windows facing the Fox River, where you will see Bald Eagles in their natural habitat, fishing and resting in the trees just yards away! You will usually see deer, fox, turkey, hawks, squirrels: rabbits, and a wide variety of wildlife.
Cozy and Comfortable Bedroom.
A cozy bedroom where two can snuggle comfortably and enjoy a romantic night away from it all. Beautifully decorated with antiques to make you feel good during your stay. You will sometimes hear the owls at night through the window. Come and relax with us.
A Comfortable Bathroom to freshen up in.
All the usual amenities. Bathtub, shower, etc. If you forget something, we always have extra supplies.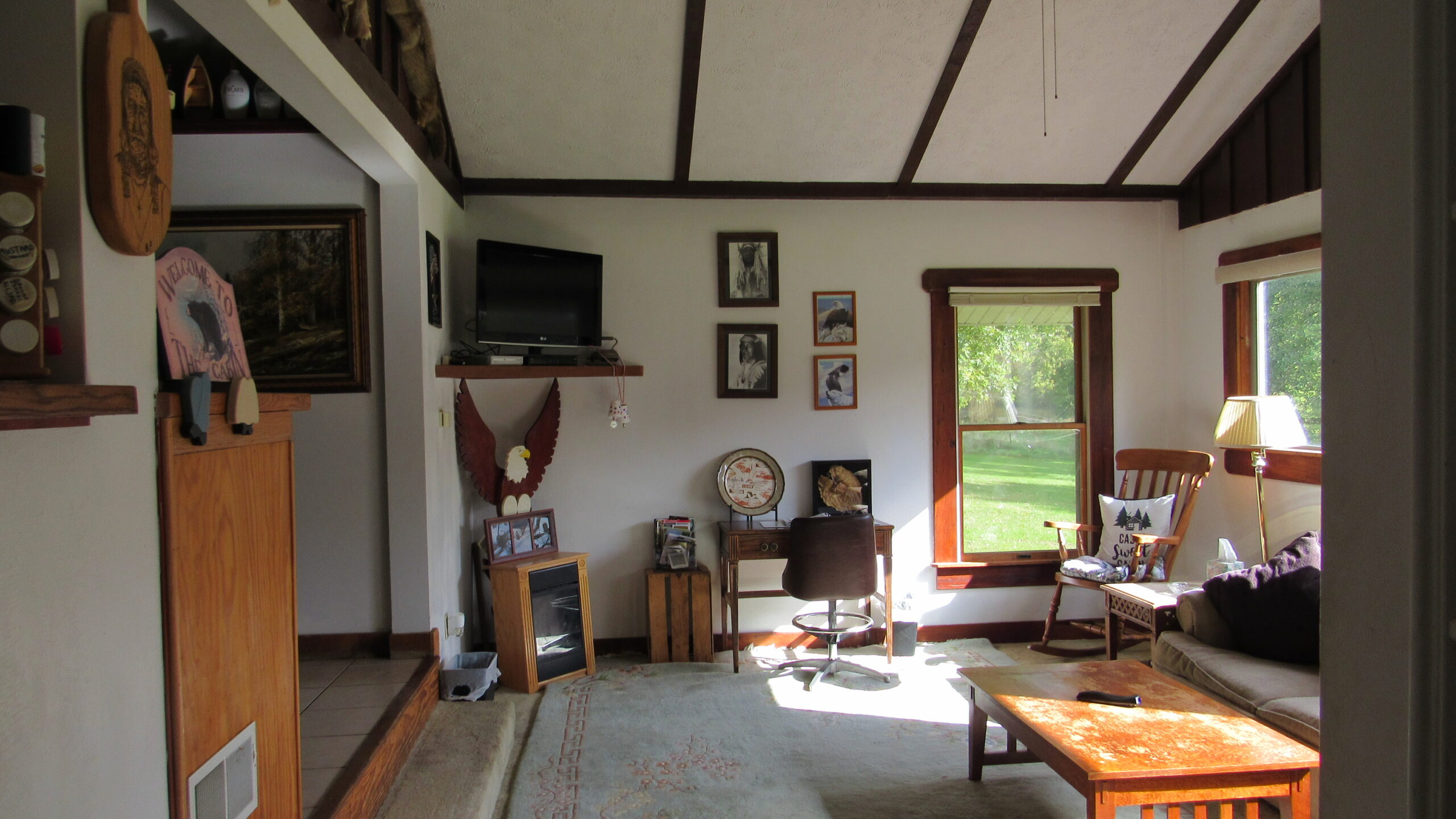 The Eagle Nest is the place to be!
The Fox River Eagle Cabin sets itself apart from other cabin rentals with its beautiful views and peaceful atmosphere.
In addition to the rental cabin along the Fox River, the property also hosts the Eagle Nest.
This stylish structure is the perfect place to hold your next whatever! Weddings, Receptions, Graduation, Family meetups, and so on.
Rent the cabin and enjoy the sounds of nature and the Bald Eagles' beauty.
What People Say...
We have been here a few times and we love it. Coming back this June for another stay.

Rachel Henry


July 10, 2023

You couldn't ask for better owners, pet friendly, beautiful setting on the river! Nice to just get away without driving a day or more... will definitely be back!

Smooth Operator


August 10, 2020

Nice relaxing place. Owners are very hospitable.

Dawn Meiners


August 10, 2019

Aaron G


August 10, 2019

T channel


August 10, 2017

ALBIN Kaczmarek


August 10, 2016
Contact Fox River Eagle Cabin
1914 N 2959th Rd, Ottawa, IL 61350
Ottawa, Illinois
(815) 343-6435